The first step toward a website or personalized email address is to register a domain name like example.com. For a small annual fee you can secure a name will set your website and email address apart from the rest. All of our Hosting Plans include a free domain name.
In order to reserve a domain, a registrant must register it with one of almost a thousand ICANN-accredited registrars. The registrar will check if the domain is available and create a WHOIS record with the registrant's information. It is also possible to register domains through a registrar's resellers.
Have you ever wondered, What is a domain?
Domain Name Registration Process
The diagram below illustrates the main functions of the parties that are usually involved in the process.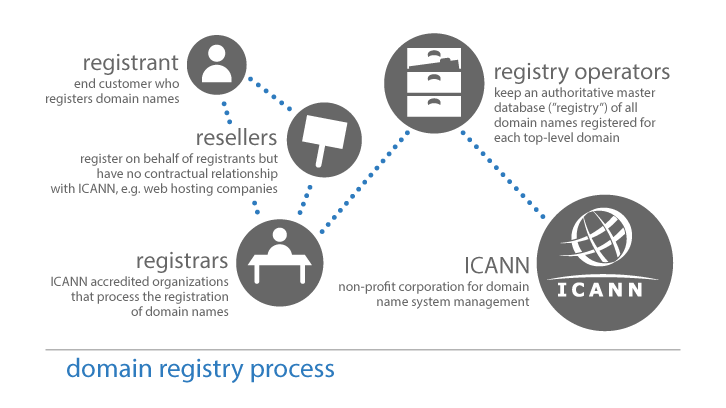 Not ready for a hosting plan?
If you're not ready for hosting let us register your domain name and ensure it does not get taken. For now we will point your new domain to a facebook page or other website you choose.
Already have a domain name?
No problem, we can still provide you with a website or email hosting plan. Even if you have already registered your domain through another company we can configure it to point directly to your website hosted by FLIMA Web Hosting.
Want to transfer your domain?
If you have already registered a domain name through another company and wish to transfer it to us visit the FLIMA Web Hosting Domain Name Transfer Page.
Want to register your own domain?
We are glad to register a domain name for you. But if you already have a favorite registrar, then register your own domain name. Then come back here to setup your windpowered hosting options or a custom built website.