Our team delivers professional website design and development for individuals, businesses, musicians, organizations, and more. We collaborate with each client to build a strategy — design and develop — then launch a responsive website that exceeds current web standards.
We provide domain names and secure, affordable hosting for websites and personalized email addresses. Our founder Michael George is a musician, as well as, a graphic designer and website developer. For over a decade he has run Stargroove Collective. Michael built his first website in 1997, back when a website was basically a digital business card. Over the years we have seen the internet transform how people do business, provide services, market products, and stay connected to their target audience. Michael's hand-coded approach optimizes each website for better performance and higher search ranking. These websites exceed current web standards of the W3C. The clean, bloat-free code ensures faster page loads and strong content that keeps visitors engaged.
FLIMA Web Hosting is a service provided by Finger Lakes Independent Music Association.
---
About Stargroove Collective…
Stargroove Collective designs quality, modern websites for all types of clients. Lead developer Michael George built his first website in 1997. Back then a website wasn't much more than a digital business card. Today the internet has transformed the way people conduct business, provide services, market products, and reach their audience anywhere in the world. Contact Michael George today for a free consultation (585)237-8442.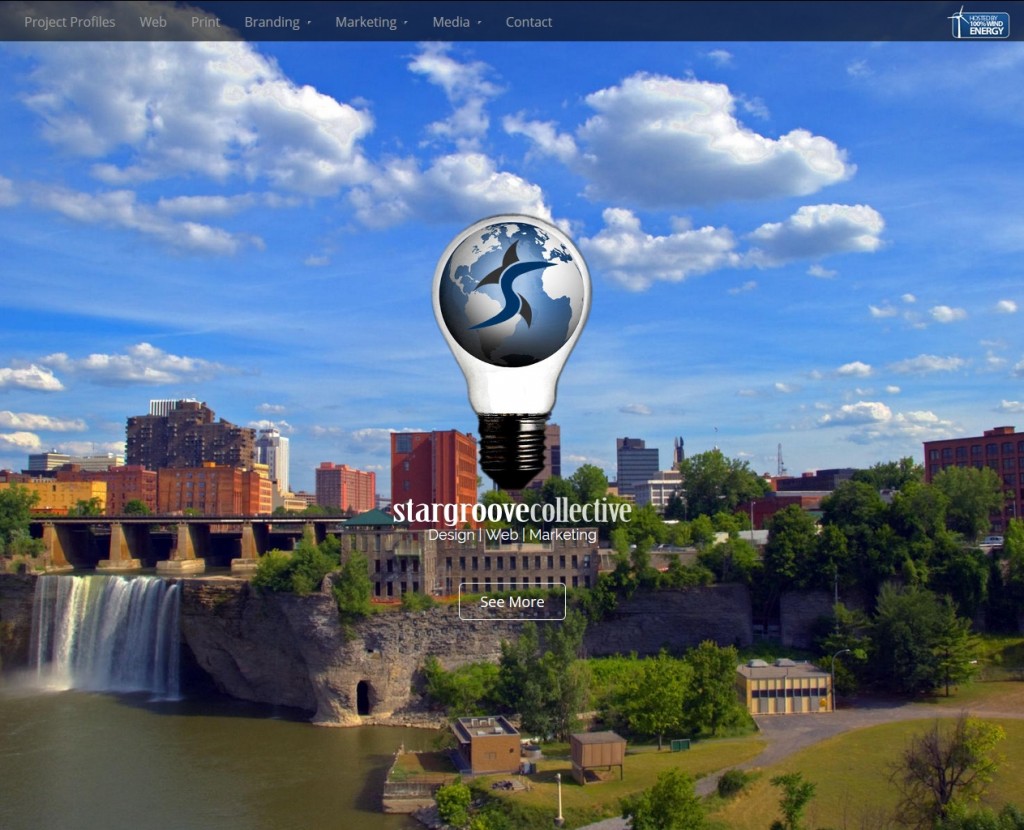 ---
Mobile-First Design
Increased use of smartphones and tablets require modern websites to be adaptable. Our websites use the mobile-first design approach. Building each site upon Twitter's Bootstrap technology ensures a dynamic website that performs well on all devices.
---
Clean Code Standards
Our code meets current web standards of HTML5 and CSS3 as established by the World Wide Web Consortium. The clean code ensures faster page loads, better user experience, and higher search ranking.
---
WordPress Sites
We specialize in developing custom WordPress websites. This powerful open-source technology runs nearly 25% of all websites. It combines simplicity for users and publishers with under-the-hood complexity for developers. This makes it flexible while still being easy-to-use.
---
Search Engine Optimization [SEO]
The ultimate success of your website depends on how readily the search engines display it in results. The code, copy writing and even then names of files can impact your ranking. Michael will design a site with aesthetics that keep visitors coming back. But this is only part of the job. Search engines don't care how pretty your website is…that's why we work just as hard on what's happening behind the scenes. The coding and language that communicates to the major search engines is the backbone of your website that no "person" sees. But we do.
---
Social Media
Search results and overall site traffic is fueled by your exposure to the internet community at large…this goes beyond your website. Everybody from major corporations to Ma and Pa are sending tweets, updating facebook, writing blogs, and more. The conglomeration of this kind of web presence is more links and indexes to your site. Many of these services cheap, ready to be integrated, equipped with widgets and include basic traffic data. Add to this formula rich graphic emails with embedded links and special offers. A direct email marketing campaign will drive fans to your facebook, customers to your doors, and keep you connected with your existing clientele.
---
Google Analytics
All websites are integrated with Google Analytics. This technology gives rich insights into website traffic and marketing effectiveness. Powerful, flexible and easy-to-use features lets us see and analyze your traffic data. With Google Analytics, we're more prepared to write better-targeted ads, strengthen marketing initiatives and create higher converting websites.We can analyze website traffic and devise ways to drive more visitors to your pages. We will provide monthly, quarterly, or annual reports explaining your website's effectiveness. Then we can determine design, copy writing, and programming changes to improve upon your success.